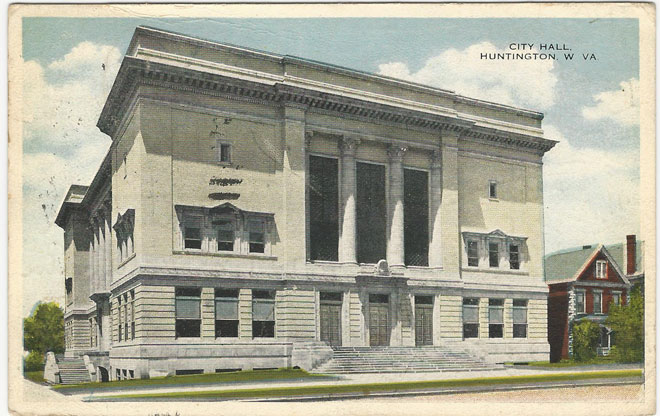 This vintage postcard of City Hall was mailed in 1917, just two years after the structure was completed.
When Huntington was founded in 1871, its first City Hall was a small frame building built in the 800 block of 4th Avenue. Later, a larger red brick building was erected on the east side of 9th Street between just north of 5th Avenue. The building housed the city offices, the fire department, the police department and the city jail. When the county seat was moved from Barboursville to Huntington in 1887, the county government shared use of the city building until construction of the Cabell County Courthouse was completed in 1901.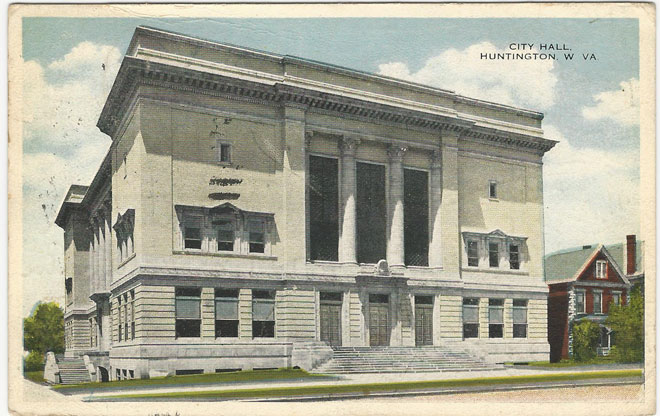 In 1911, when Huntington's city fathers decided to erect a new City Hall, they purchased a tract of land on the northeast corner of 5th Avenue as the site, paying the then-unheard-of sum of $46,000 for it. The city retained Verus T. Ritter to design the new municipal building. One of early Huntington's best-known and most successful architects, Ritter also designed the former Huntington High School building on 8th Street, the 15-story Huntington National Bank Building on 4th Avenue, Johnson Memorial Methodist Church and Central Christian Church.
The King Lumber Co. won the construction contract with a bid of $115,380. Completed in 1915, the Neo-Classic-style building is faced with cream-colored brick with terra-cotta details, supplied by the Maryland Terra-cotta Company of Baltimore; limestone quarried in Bedford, Indiana, and granite from Mt. Airy, North Carolina. In designing the new City Hall, Ritter combined government functions with an ornate 2,500-seat auditorium. Once abandoned and utilized only for storage, the auditorium has since been restored for use.
-James E. Casto