What is PATH?
The Paul Ambrose Trail for Health (PATH) is currently approximately 18.6 miles of a bicycle and pedestrian trail system providing free, healthy recreational and alternative transportation opportunities for the City of Huntington and surrounding areas.
PATH is an important component of the City of Huntington's continued vision toward a balanced transportation system.
The vision for PATH is a safe, connected trail system consisting of a continuous loop with connections to other bike and pedestrian trail systems and City assets.
PATH Map
Please check out the following document for a downloadable map of the existing PATH sections
Check out the Interactive PATH map to learn more about how to access our existing PATH trails and learn about new future funded connections.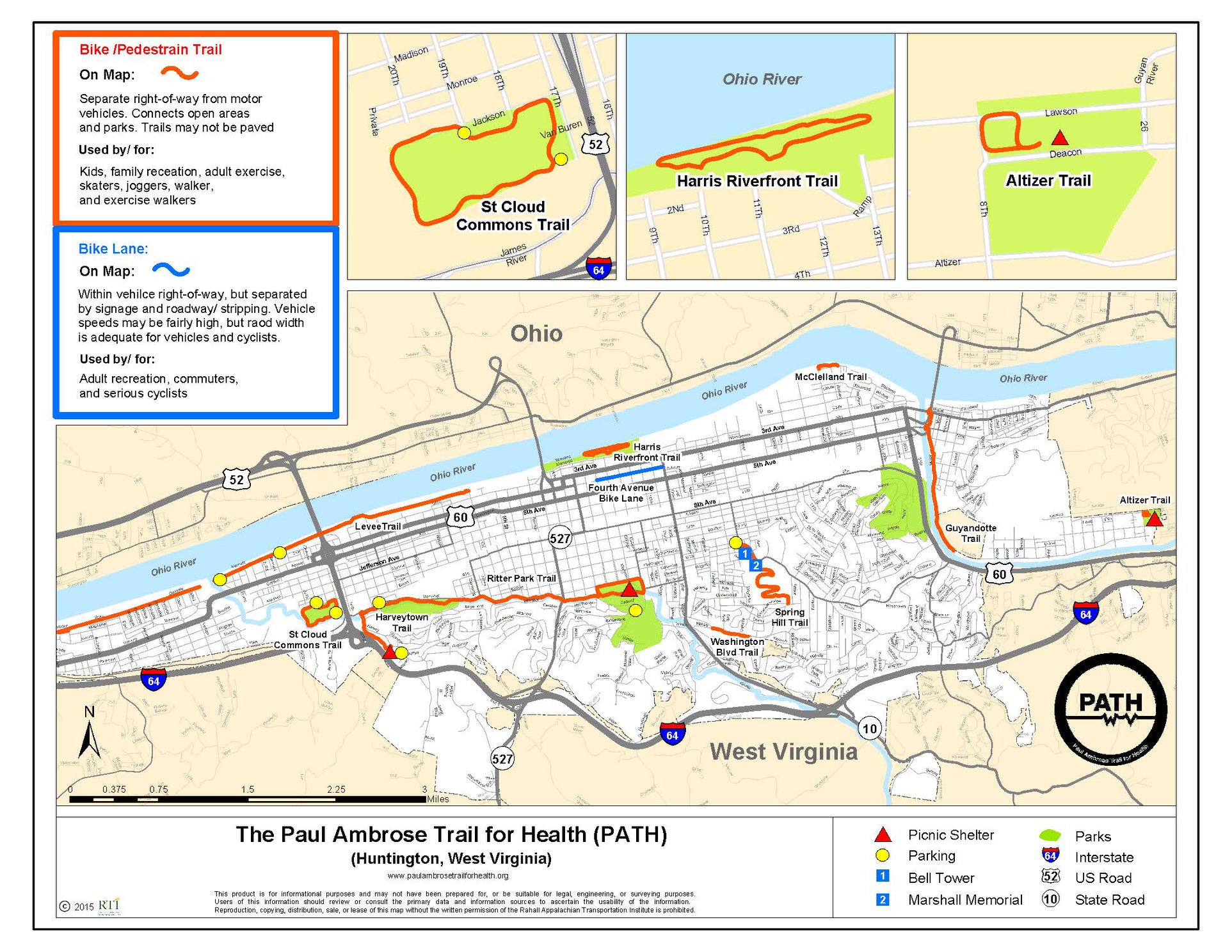 In addition to the PATH trails in Huntington there is an active network of roadways that people ride for transportation around Huntington. If you are interested in learning more about recommended routes to get around Huntington, please check out our Interactive Commuter Bike Routes Map below. This map was created using a subjective scale of comfort of roadways around Huntington based on where people who ride bikes recommended. Please use your best judgement on your personal comfort to ride in the roadway with vehicles. If you prefer to ride with others, we encourage you to check out our local bike shops or bike advocacy groups for suggestions.

Interactive Commuter Bike Routes Map
If you are interested in Bike Commuting here are some resources to be aware of:
The League of American Bicyclists (LAB) provide a lot of resources for cycling tips for all ages and abilities

Consder participating in events like May 19th Bike to Work Day in Huntington where you can meet other riders and learn about bike communting friendly routes

Here is a resource from the LAB to help think through common concerns about bike commuting: Overcoming Bike Commuting Concerns
Interested in learning about other outdoor recreation options in Huntington and the Tri-State please check out this regional Outdoor Recreation Guide: https://kyohwvrecreationguide.wordpress.com/tri-state-mountain-biking/
Bike Licenses
City of Huntington sells bike license and registration for $1.00
Bike licenses are a great way to register your bike's serial number and information. This information is kept at City Hall and can be a resource in case of theft.
The following information is needed when you apply for a bike license.
Bike Serial Number
Size
Make
Color
Speed
Come to City Hall Room 20 or look for bike license sales at bike related events coming up!
Paul Ambrose Trail for Health History:
In 2006, the initial concept of a trail system for Huntington, West Virginia began through a discussion between Dr. Raymond Busbee, Marshall University Park Resources and Leisure Services professor/researcher and Robert Plymale, CEO of Rahall Transportation Institute (RTI). In 1998 Dr. Busbee conducted a trail study reviewing the feasibility of a multiuse trail connection from Kenova, WV to Charleston, WV. Plymale encouraged that idea but first wanted a more focused view for a trail system in Huntington that would create a livable community for residents.
In 2007, a collaborative partnership between the Rahall Transportation Institute, City of Huntington, HealthyHuntington.org, Cabell County Commission and the Greater Huntington Parks and Recreation District (GHPRD) was formed for the vision development of the future trail system. Meetings with neighborhood associations, the Huntington Rotary Club, local gardening clubs, the Huntington Downtown Lion's Club were assembled in order to gain input and support of the preliminary designs for a local trail system.
Through a public contest, the trail system was named the Paul Ambrose Trail for Health (PATH) in honor of the promising young physician who worked toward decreasing obesity in rural areas. Dr. Ambrose's life was cut short as a passenger on American Airlines flight 77 when it was taken over by terrorists and flown into the Pentagon on September 11, 2001.
Dr. Paul Ambrose was passionate about improving the health of our nation. A native of Huntington, Paul received his undergraduate degree from Marshall University and his medical degree from the Joan C. Edwards School of Medicine at Marshall University. While in medical school, he was one of ten students nationwide to receive a Washington Health Policy Fellowship. Some of Dr. Ambrose's accomplishments include: AMSA Legislative Affairs Director, Congressional Advisory Committee, Dartmouth Residency, Harvard Fellowship, Surgeon General Fellowship, Surgeon General's Call to Action to Prevent and Decrease Overweight and Obesity.
In 2009, RTI, GHPRD and WV Citizens Conservation Corps constructed the first segment of the PATH at St. Cloud Commons Park on National Day of Service, September 11, 2009. Fundraising and future planning for the trail system began. This included planned fundraising events to raise capital, a maintenance fund to ensure the future upkeep for the trail system, and a general fund to support the building of the trail. The decision was made that all the money raised for the PATH would be split with 20% distributed to the maintenance fund and 80% distributed to the general fund. The inaugural planned event for fundraising occurred with Fit Fest 2009 a 5K Run/Walk and community event. Over 1,000 people participated in the event at Ritter Park to support the construction of the PATH.