In 2023, the West Virginia Legislature enabled cities to create Private Outdoor Designated Areas, or PODAs. The City of Huntington became the first city in West Virginia to adopt an ordinance establishing a PODA in June of that same year.
The PODA in downtown Huntington occurs on Thursdays and Fridays from 5 to 11 p.m. and Saturdays from 11 a.m. to 11 p.m. During the PODA season, you can grab a to-go drink in a designated PODA to-go cup (a clear cup with the PODA logo) and explore the downtown with your friends after dinner or before an event.
PODA-Licensed Establishments

411 9th St. Huntington

932 4th Ave.

321 9th St.

938 4th Ave.

809 3rd Ave.

311 9th St.
Want to become a PODA permit holder to sell approved alcoholic beverages during the PODA hours? Contact City of Huntington Business Services Advocate Sarah Bostic at bostics@huntingtonwv.gov to request a permit application.
PODA GUIDELINES
YOU CAN:
Support local businesses by purchasing a drink at a participating PODA establishment and exploring the Downtown PODA district during the designated hours. The Downtown PODA will operate from 5 to 11 p.m. on Thursdays and Fridays and from 11 a.m. to 11 p.m. on Saturdays.
Drink responsibly. Rules pertaining to public intoxication, indecency, noise and driving while intoxicated still apply.
Finish your drink and throw away your cup in a trash receptacle when you see a sign that says you are leaving the PODA.
Have a great time!
YOU CANNOT:
Bring your own alcohol into the PODA. All to-go PODA beverages must be purchased from an approved liquor-serving establishment.
Walk around with a drink that is not in a designated PODA cup (a clear cup with the PODA logo). Cans, glass bottles, red Solo cups and to-go mugs that you brought from home are prohibited.
Take a PODA drink from a PODA-approved, liquor-serving establishment into a non-PODA approved, liquor-serving establishment.
Throw your trash on the ground. There are plenty of trash receptacles within the PODA. Please use them.
DECALS TO LOOK FOR IN THE PODA
ENJOY SAFELY AND RESPONSIBLY
What is a standard drink?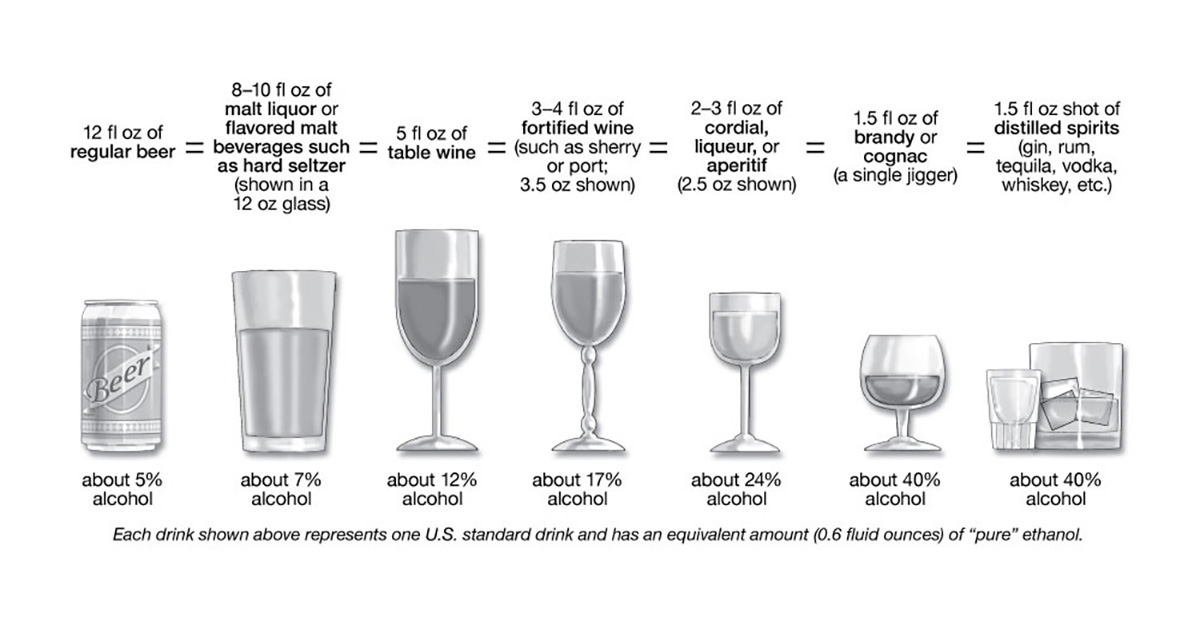 Source: National Institute on Alcohol Abuse and Alcoholism
Resource Links